Kiel Endorser, Spike O'Neill & The Impalers Rock the House
Spike O'Neill, from KJR 95.7 FM, and the Impalers rocked the Emerald Queen House  on Saturday, May 4th! The show truly had it all. Great old-school rock-n-roll and a multide of instruments: from harps and  guitars to drums and banjoes! It was AWESOME!!!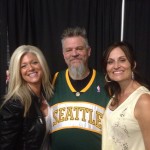 Administrative Manager- Suzan Treece, Spike O'Neill- Radio Personality 95.7FM, and Marketing Director-Tamara Sevigny after the show!